Campaign for the Historic Church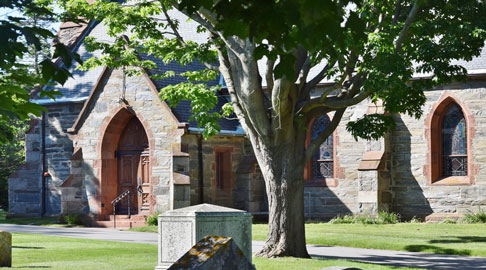 Members of St. Mary's and the larger community are often touched by the beauty and holiness of our buildings and campus. The Historic Church, built through the vision and generosity of Miss Sarah Gibbs in 1849, is a place of architectural uniqueness and quiet reverence. Every time we visit we are reminded of God's creation, the generosity of those who have gone before us, and the spiritual gift of St. Mary's Church.
This remarkable treasure has been cared for with each generation doing its best – but now the church is in need of a major renewal. And so, St. Mary's Episcopal Church has launched a capital campaign for the restoration and renewal of our Historic Church. This major project is planned in three phases:
Remediating mold and water issues in the basement and replacing the heating system,
Replacing the slate roof (over 150 years old!) and restoring exterior masonry,
Restoring the church interior, including ceiling, walls and floor.
Our goal is to restore the church to its full historic character, beauty and significance.
The leadership of St. Mary's is committed to fostering a community effort in the renewal of the Historic Church. Our goal is to raise $750,000 over three years. We plan to seek funding from
Our St. Mary's members (in the form of pledges and one-time gifts)
Foundations and organizations that share our commitment to preserving historic places and are willing to give grants toward that end
Community organizations and individuals who use St. Mary's or appreciate the beauty of the church and its surroundings.
We are also planning several fun, fundraising events that will take place over the next 3 years. Please join as we raise the funds we need.
Please consider donating to this important project. It's very easy to make an online donation. Or you can use the special pledge card designed for this campaign, which is available at the Church Office. Or call 401-846-9700, Ext. 100, and we will mail you a pledge card.
Thank you to all who decide to pledge and support the renovation of the Historic Church.