St. Mary's Episcopal Church
Holy Communion Returns!
All are baptized Christians are invited to join us in Holy Communion at our outdoor worship service beginning on Sunday, August 2. For details about worship, please scroll down.
Beginning on Sunday, August 2nd, we will offer communion at the 9:00 worship service.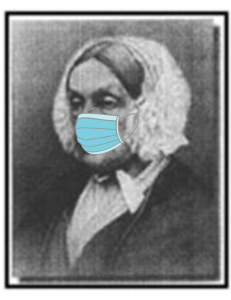 St. Mary's offers outdoor worship services at 9:00 a.m. every Sunday on our lawn and in our parking lot. We will be ready to greet you at 8:30 a.m. Come early so you can get safely situated.
As a community of worship, welcome, and well-being, our intention is to provide the safest and most inclusive environment for worship during COVID times. Our plans for worship follow Rhode Island Department of Health recommendations and those of the Episcopal Diocese of Rhode Island. We have adopted a Covenant for Regathering as our commitment to each other and to the broader community as we adapt to new ways of being together.
Sarah Gibbs, our founder, gives us an update on how to worship at St. Mary's in 2020.
Please join us in worship! Whether on the lawn, in your car, or online, you matter at St. Mary's!
For more details, check out our Calendar listing.
---
We've Moved Worship!
Well, not really. We're still meeting on the lawn at St. Mary's, 324 E. Main Rd., Portsmouth, RI. BUT, you can now view the worship service and find the weekly bulletin under the "Recent Sermon" heading below. (effective July 26, 2020).
---
Program and Ministry Updates
As you visit our website, you will notice numerous opportunities for engaging in your spiritual life at St. Mary's. Currently, these opportunities are starting to regather in person. Please be sure to check the church calendar as well as the eNews for the most recent developments. Also, contact the ministry coordinators if you have questions.