St. Mary's Episcopal Church
324 East Main Rd., Portsmouth, RI 02871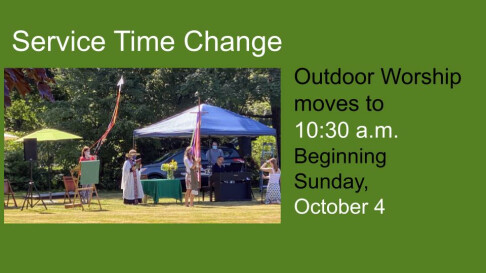 All baptized Christians are invited to join us in Holy Communion at our outdoor worship service at 10:30 a.m.
For details about worship during the time of coronavirus, please read our most recent update.
---
Can't join us on Sunday?
You can view the worship service in real time on Facebook Live. A link to the service on YouTube and the weekly bulletin can be found under the "Recent Sermon" heading below.
---

Sacred Ground
Sacred Ground, a 10-session program created by the Episcopal Church and built around documentary films and readings that explore race, racism and the latest thinking by scholars on the topic of racial healing, will restart at St. Mary's in September. If you have not participated in the program and are now interested because of all that is going on in the United States today, you can join the program. For more details about St. Mary's discussion of this topic, please explore this link.
---
Program and Ministry Updates
As you visit our website, you will notice numerous opportunities for engaging in your spiritual life at St. Mary's. Currently, these opportunities are starting to regather in person. Please be sure to check the church calendar as well as the eNews for the most recent developments. Also, contact the ministry coordinators if you have questions.