Our Staff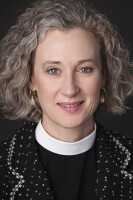 Jennifer Pedrick
Rector
Office: (401) 846-9700, ext. 103
E-Mail:

Jennifer has served as St. Mary's rector since April of 2014. She finds joy in offering spiritual leadership and has a deep appreciation for St. Mary's ability to honor its history and the traditions of the Episcopal Church, while simultaneously offering fresh expressions of Christian faith and practice. In addition to her primary vocation of leading worship in a variety of styles, Jennifer enjoys ministries of teaching spiritual practices and the Bible, leading retreats, supporting those who wish to grow and heal, facilitating Journey Dance™, and connecting St. Mary's with other ministry partners on Aquidneck Island.
She is a Certified Daring Way Facilitator™ and is trained as a Congregational Wellness Advocate. When she is not at church she is likely to be enjoying her family and friends, at the beach, in the kitchen or garden, practicing yoga or travelling.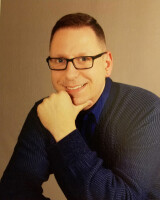 Michael Templeton
Pastoral Musician
Office: (401) 846-9700, ext. 100
E-Mail:

Michael is St. Mary's Pastoral Musician, and leads the Adult Choir at the Contemporary Worship Service. In his day job, Michael is a full-time elementary school principal in Providence Public Schools and a part-time adjunct professor of education at Rhode Island College. In addition to making music, Michael finds joy in cooking, practicing his Spanish, seeing theatre, reading, connecting with friends from around the country, and binge watching Netflix series.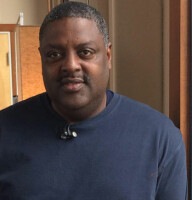 Jon Walker
Property Manager
Office: (401) 846-9700, ext. 105
E-Mail:

Jon has lived on Aquidneck Island for 35 years, working as a carpenter, audio-visual technician, painter, landscaper, herdsperson, and sexton. Jon became our full-time Property Manager in January 2019. Jon's first love is cooking – then traveling. His dream is to travel to more European countries in the next few years. As a personal goal, Jon has been trying to live a simpler life. Life is too short – K.I.S.S. (Keep it simple, stupid!)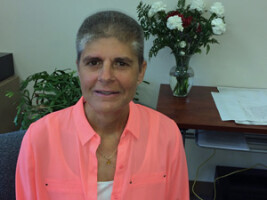 Karen Laroche
Parish Administrator
Office: (401) 846-9700, ext. 100
E-Mail:

Karen is our Parish Administrator and just recently led the Sunday morning Bible Study that concluded in May. She will tell you that one her favorite titles for God is the Great Puzzle Maker, and her coming to St. Mary's is the latest piece that God has added to the puzzle of her life.

Over the past 35 years, the puzzle pieces of Karen's ministry have been numerous, from serving as the Director of the East Bay CYO Youth Center in the 80's, to the Director of Youth Ministry and Retreat Leader at the La Sallette Retreat House in the 90's, to most recently birthing and growing a Women's Ministry at a local parish. Karen's Master's degree in Biblical Studies and years of experience in administration in ministry have taught her that the church should never look like just another business. Rather, we should reflect the One we follow, Jesus, the Christ.

She enjoys being outdoors; biking, swimming and walking the many parks and trails of Rhode Island.