St. Mary's News
A Very Special Autumn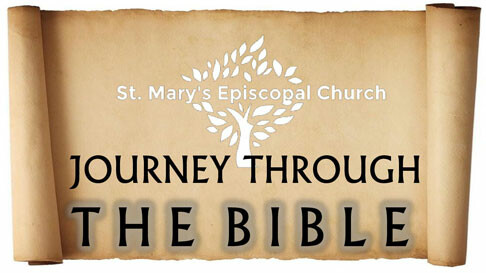 "What if God's word so moves and enlightens us, that we find new ways to address the complexities of our personal lives? What if God's word could rekindle our faith when it seems to be burning low? What if God's word could show us how to manage and govern a Christian community, relying more on God's power and attuned to God's plans for us?
I believe that God's word can do this."
Gabe Giella, Christian Education Director

You are invited to join the St. Mary's community on a year long journey of renewed faith and well-being.
We are going to be exploring God's word in some depth, this year, and The Path: A Journey Through the Bible, is what we'll be using as our guide. And we are inviting all ages, all stages, all people on this journey with us.


Adults, teens and children will meet on Sunday mornings at 9:00, beginning on Sunday, September 16th.
Adults will meet in the Adult Christian Ed room

Teens and children will meet downstairs in designated classrooms. Teens will be invited to have breakfast together.
(There will be another session for Adults, held on Wednesday's at noon. See our Event Calendar for specific dates for all these classes.)
We've prepared a place for you on this Journey Through the Bible.

The cost of the program is $20 for each person (of any age) with a maximum of $60 per family. This will cover the cost of the book and all class materials. This is a one-time charge for the whole year.
Registration is required so that we can order enough books. Please see Gabe Giella, Director of Christian Formation, or call (846-9700, Ext. 100) or email him at to reserve your spot.
You can also find the Registration Form here - print it out and bring or mail it in to St. Mary's, to Gabe's attention.
---
Stories from the Churchyard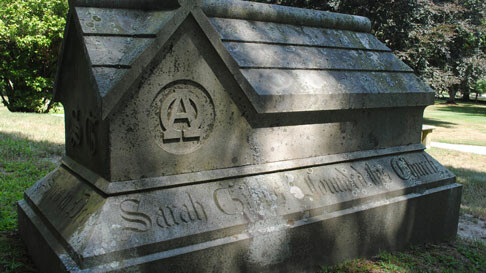 Saturday, September 22nd at 7:00 p.m.
The Portsmouth Community Theater is collaborating with St. Mary's Episcopal Church to present Stories from the Churchyard - a dramatic presentation based on the life stories of some of the residents of St. Mary's Cemetery.

The play was researched by Gloria Schmidt, written by Cindy Killavey, and features actors from the theater and parishioners of St. Mary's Church. Admission by donation.
Please join us for a Potluck Dinner prior to the play in the Parish Hall. We ask that you bring a dish to share with friends who will be attending the show. To RSVP for the Potluck, please email Judy Hall at or look for the sign-up sheets in the church and in the chapel.
Everyone is also very welcome to attend the 5:00 p.m. Worship Service.
---
More Fall Pathways
In addition to the parish-wide Bible exploration, there are so many other offerings to help you along your journey.
Weekly Contemplative Prayer and scripture meditation
Rest and Return retreats
Journey Dance, and something new this year
Parent Wellness Circles
You can check out our Event Calendar, or view a Poster that lists all happenings, times and dates.
Won't you join us? All are welcome.
---

Learn how to dance on your journey!
Two opportunities to experience the joy of movement and music. Try JourneyDance.
September 14th at 7:00 p.m.
September 28th at 7:00 p.m.
Weaving simple, guided movement with inspiring music, your dance can be an empowering journey of transformation. Led by our Rector, Jennifer Pedrick. The cost for each session is $10.00
---

parent wellness circles
Beginning Wednesday, September 26th
3:30-4:15 p.m. - Story and Stretch for kids ages 3-5
4:30-5:30 - Yoga for Kids, grades K-4
Each of these is offered with a concurrent Parent Wellness Circle. This series is a collaboration between leaders from St. Mary's Church and The Sacred Center.
---
Update on the Historic Church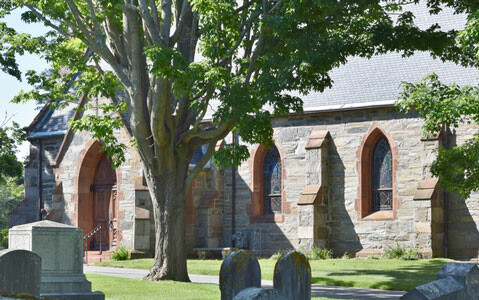 The Campaign for the Historic Church has been launched!
Phase One (mold abatement, deep cleaning, air scrubbing, concrete floor pouring and de-humidifier installation) is done. The air has been tested and deemed safe. We are once again worshipping in the Historic Church!
Many thanks to all who worked hard to make this possible. And many, many thanks to all who donated money for Phase One. Without all of you, this would not have happened.
Now we turn our attention to Phases Two and Three and the Campaign for the Historic Church. Please visit this page for details on what is going on and to learn how you can help.
---
St. Mary's Weekly E-News
For all of the details of this week at St. Mary's and more news about what is going on, read our weekly e-news.
---
What to receive our e-news?
Complete the form below.