The God Who Scoots Over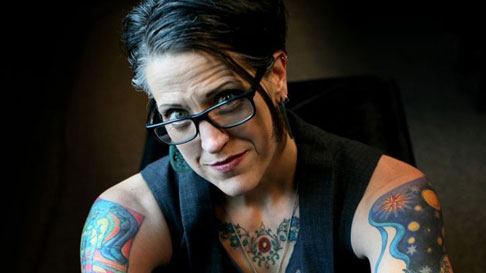 We met Nadia Bolz-Weber when we did the Animate Bible series. She was the priest with tattoos everywhere, whose topic was The Unexpected Good News of the Gospels. Remember - she said that Jesus helps us to realize that God comes to us in "simple, human things, like water and wine, bodies and bread, babies and crosses."
For the past 10 years she has been the pastor of the House for All Sinners and Saints Church in Denver, CO and this past week she gave her last sermon in that role. The sermon in a stunner.
You can read it here - Grace, God and Beyoncé,
or you can listen to it.
Here's the concluding paragraph -
"After over a decade as pastor for this congregation I know one thing - that there is only grace. Everything else is a measure of worthiness. Everything else leads to insiders and outsiders. Everything else can fail us. But oh, to grace how great a debtor daily we're constrained to be. I love you. Amen."






























































































































































































































































































































































































































































































































































































































































































































































































































































































































































































































































































































































































































































































































































































































































































































































































































































































































































































































































































































































































































































































































































































































































































































































































































































































































































































































































































































































































































































































































































































































































































































































































































































































































































































































































































































































































































































































































































































































































































































































































































































































































































































































































































































































































































































































































































































































































































































































































































































































































































































































































































































































































































































































































































































































































































































































































































































































































































































































































































































































































































































































































































































































































































































































































































































































































































































































































































































































































































































































































































































































































































































































































































































































































































































































































































































































�