Campaign for the Historic Church
St. Mary's Episcopal Church is approaching the second year of an important three year Capital Campaign for the restoration and renewal of our Historic Church.
We have made tremendous progress. As of December 15, 2018, we have received:
- from donations and pledges - $295,000
- grants from foundations - $255,000
- for a grand total of $550,000!
We can now raise the roof!


Phase II - Replacing the slate roof will become a reality in the new year. THEN we can focus on Phase III, restoring and renovating the interior.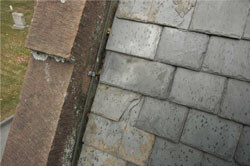 Thanks to all - individuals, families, friends, foundations - for your commitment and generosity to our Historic Church. Our long-term goal is to raise $750,000 over three years to replace the roof, and restore the interior of the church to its full historic character, beauty and significance.
Please consider making a donation, either monthly or weekly over 3 years, OR a one time gift.
It's very easy to

make an online donation

.

If you prefer, y

ou can use the special pledge card designed for this campaign, which is available at the Church Office. Or call 401-846-9700, Ext. 100, and we will mail you a pledge card.

Thank you to all who decide to pledge and support the renovation of the Historic Church.