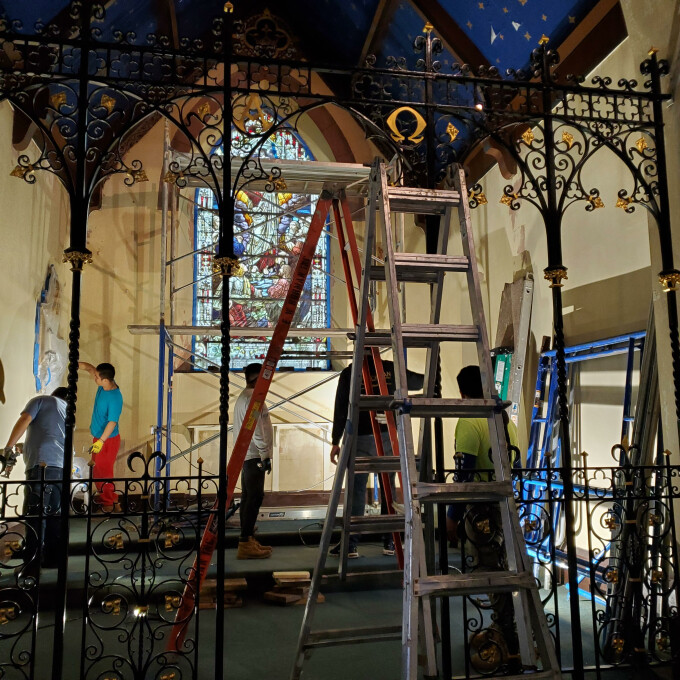 Work on the Historic Church restoration began on Monday, May 2, 2022. As we would say in the navy, the ship is underway, and so far, the seas and winds are very favorable. The project is expected to be completed within six months, but we hope it can be finished sooner. In every restoration project though, there are always surprises and those can sometimes delay even the best initial plans. However, after almost five months of study and planning, the restoration team remains optimistic on both timing and cost.
The first phase of this restoration is to get the interior ready for the plaster repair and the electrical repair work that is necessary, including rewiring for both the new organ and speaker wires and the sound acoustic speakers. The work plan is to start at the front of the church and work backwards with all the plaster crack repairs and where necessary new wall board and plaster. We hope to save as much of the original plaster as possible. There has been substantial water damage in some areas that will need complete replacement though. After the plaster repair work is finished and had sufficient time to cure, then the painting will start. While this interior work is going on the repointing of the exterior stone walls of the church, particularly around the windows will occur to ensure that no water penetrates the new plaster from the outside. The entire exterior of church will not be repointed but only the observed potential problem areas.
With God's blessing and everyone's prayers, we look forward to the completion of this restoration as planned in a fashion that is spiritually inspiring while preserving the historic character of this beautiful church, so that future generations will have a meaningful religious experience as many have had enjoyed in the past.